Time sure flies. I can hardly believe that it's been over a month since my last trip report. I've been safely back in the US a little over two weeks, now busy catching up on everything. Thanking you for your concerns and especially for your prayers for a successful trip and my safe return. This report is intended to bring you up to date from where I left off in my first report which covered the first of the four primary goals of the trip.
UFAR's New Office
Unfair business practices by the landlord forced UFAR in 2009 to close down its previous office in Kinshasa held for three years. After a great deal of effort, a new office-apartment facility has recently been found.
It has a large living-dining room, 3 bedrooms, 2.5 bathrooms, a kitchen, a pantry and 2 balconies, suited for use both as an office and living quarters. It is located on the third floor of a building complex which houses small retail shops on the bottom floor and a combination of business offices and apartments.(IMG) Two other US-based nonprofit organizations have their headquarters at this location. Our new office is conveniently located on the extension of the major avenue or roadway prominently situated in the heart of Kinshasa and stretching for several miles from downtown in the direction of our new office.
Inaugural visit to Ituri north
The Ituri north community directed treatment with ivermectin (CDTI) project is one of several onchocerciasis control projects in the Democratic Republic of Congo (DRC) that have not had NGO partners to provide them with financial, technical and supervisory supports as normally expected. The project is located in the region of the Oriental province in DRC that shares borders with Uganda to the East and Southern Sudan to the North (Map of DRC), and has a long history of serious tribal conflicts, as well as insurrections and atrocities by Ugandan rebels belonging to the Lord's Resistance Army (LRA). Strong warnings against traveling in this region are constantly in effect. Through a recently established agreement between Sightsavers International (SSI) and UFAR, SSI will provide the necessary funds to support CDTI activities for the Ituri north project as well as for the Lubutu project also previously without an NGDO partner. UFAR will provide needed technical and supervisory support. Initial exploratory visits of the regions covered by these two projects were therefore deemed absolute necessities. However, my own visit into this region had to be postponed until after 12 January 2012 to await publication and reactions to the results of local parliamentary elections.
The flight from Kinshasa to Bunia via Kisangani with CAA, a domestic commercial airline, on 11 January 2012 took nearly eight hours. Dr Leonard Lopay, the CDTI Ituri north project coordinator had arranged for me to stay overnight in a hotel in Bunia, and then to travel the following day from Bunia to Aru by vehicle, a distance of 290 km. Dr Lopay's driver (Way) arrived at Bunia the night of my arrival, after dropping off his boss for a workshop at Mahagi, a village about half-way from Aru. We got started quite early the following day by filling up both reservoirs of our Land cruiser (filling in Bunia image). The weather at Bunia was cool as it had rained heavily during the night. However the climate and the landscape changed significantly about 50 km from Bunia heading north-west. The typical signs of the dry season became quite obvious on the road and landscape (dry road images). The roads were at times quite nice but most of the time very treacherous and in very poor condition. We crossed a river with strong current but without a bridge by driving the vehicle on the river bed (river crossing images). There were dozens of check-points but, much to my surprise and gratitude, we were let through each time without questions or hassle. We joined Dr. Lopay at Mahagi and headed slowly toward Aru, stopping at various key villages along the way (Dr. Lopay images). The annual Mectizan distribution campaign for this project has gone quite well and was nearing completion at the time of my visit. Random questioning of community workers and spot-checks of their registers suggested a satisfactory performance.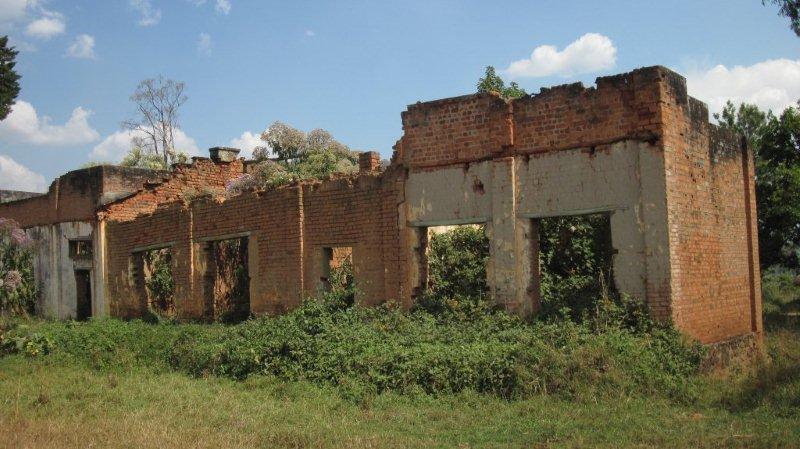 The expansion of UFAR's activities to this new region presents additional opportunities as well as unique challenges. The confirmed high prevalence of schistosimiasis around Lake Albert and the lack of a program that supplies impregnated mosquito nets in three of eight health zones included in this project provide us with an opportunity to integrate schistosomiasis and malaria control into the existing CDTI program for elimination of onchocerciasis. The existence of a nice framework of a center for ophthalmological service directed by an energetic and dedicated young physician within the Aru general hospital complex should work well with Sightsavers' long history of strong belief and unmatched records of providing comprehensive eye care to the needy. It was very interesting to learn that the health zone of Biringi is inhabited by approximately 3,000 pygmies who traditionally have a very nomadic lifestyle, constantly packing all their belongings and relocating. This presents a major challenge for a CDTI strategy based on community-wide annual registration and the door-to-door or focal point approach for mass distribution of Mectizan. The appropriateness of the current standard use of the height for determining the dose of Mectizan for a population with an average adult height of about 4.5 feet may need a closer review.
Unfulfilled visit to Lubutu
A planned visit to Lubutu, the second of the two CDTI projects previously without an NGO partner and whose financial and technical support is now guarantied through the recent Sightsavers-UFAR cooperative agreement, did not materialize due to an unfortunate missed flight connection. In a country with very few reliable airlines and infrequent flights, a missed connection can cost you days. My scheduled UN/MONUSCO flight from Bunia to Kisangani with a connection and change of plane at Entebbe/Uganda arrived late at Entebbe, resulting in several passengers including myself bound for Kisangani and Kinshasa to miss the flight and to be stranded in Entebbe for 3 days. My original plans were to spend 3-4 days in the Lubutu region which is about 240 km south-east of Kisangani, before returning to Kinshasa and then back to the US on 22 January 2012. Finally leaving Entebbe on 19 January, we only made an hour stop at Kisangani airport, and then continued on to Kinshasa. Dr. Naomi Awaca, the CDTI Lubutu project coordinator and I were able to resolve a few pressing issues through telephone conversations and e-mail.
Special Christmas celebration
During the summer 2010 ten-member mission trip to DRC, we had the opportunity of visiting a couple of orphanages in Lubumbashi. What struck us the most about them was the fact that over 65% of the "orphans" ranging in age from 2 to 16 years were not really without parents. Sadly, they were voiceless and helpless victims of being accused of witchcraft by their parents or other relatives, usually because of unexplained miseries and tragedies that have befallen or plagued the family. Forced out and abandoned, most of these kids go through hell before they are discovered and brought to the attention of religious and other humanitarian organizations.
One of the members of our 2010 mission team asked me to make a side trip to Lubumbashi; something not included in my original plans for the current trip, and deliver small especial gifts to these poor children at Christmas. What a joyful, warm, inspiring and gratifying event it turned out to be for all, especially for me, my first Christmas away from my own family! Many thanks to Nancy and Dick Beatty, the loving and caring couple who made it possible.